AEROPARK EXHIBITS

The Aeropark has a collection of 27 complete air frames on external display within the park with another 5 aircraft under complete restoration and 4 aircraft sections.
Inside the hanger there are a number of aircraft engines including a Rolls Royce Avon, Rolls Royce Gem, Rolls Royce Spey, Rolls Royce Viper, Bristol Hercules and Gyron Junior, along with a Link Simulator and numerous other aircraft components, photographs etc.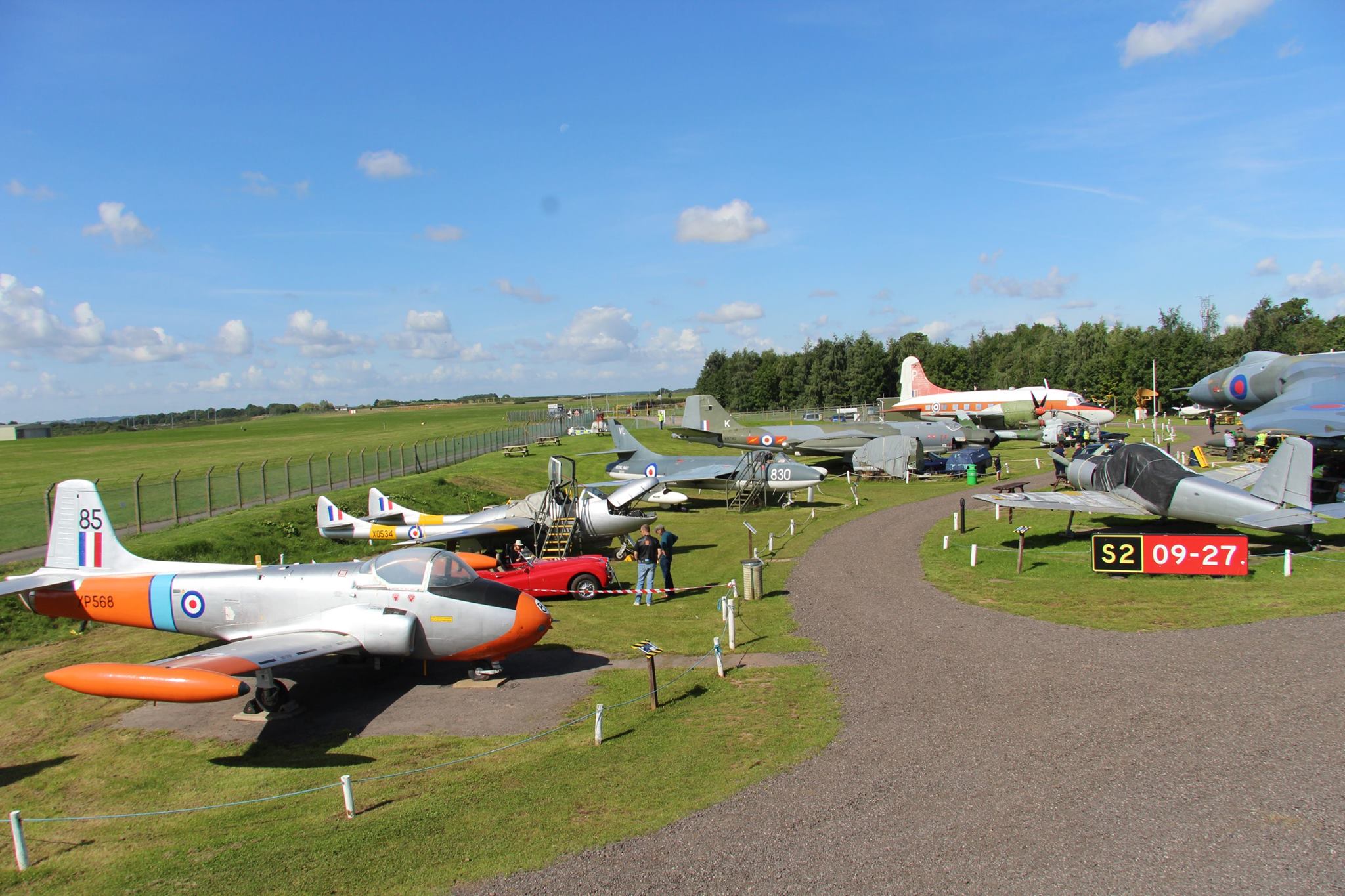 To see our exhibits and find out more about them, come and visit the Aeropark and our volunteers will be happy to talk to you about any of them, just ask!
| | | |
| --- | --- | --- |
| Registration | Aircraft Type | Status |
| XX457 | Aérospatiale Gazelle | Display |
| G-BEOZ | Armstrong Whitworth Argosy | Display |
| WM224 | Armstrong Whitworth Meteor TT.20 | Display |
| XM575 | Avro Vulcan B.2 | Display |
| ZF588 | BAC Lightning F.53 | Display |
| XW664 | BAe Nimrod R1 | Display |
| G-ARRM | Beagle 206x | Restoration |
| XV350 | Blackburn Buccaneer S.2B | Display |
| G-FRJB | Britten SA.1 Sheriff | Display |
| WP784 | De Havilland Chipmunk T.10 | Display |
| G-ANUW | De Havilland Dove | Display |
| XD534 | De Havilland Vampire T.11 | Display |
| XD447 | De Havilland Vampire T.11 | Display |
| XG737 | De Havilland Sea Venom FAW22 | Display |
| WH740 | English Electric Canberra T.17 | Display |
| WM367 | Gloster Meteor NF13 (cockpit) | Display |
| WS760 | Gloster Meteor NF14 | Restoration |
| XX494 | Handley Page Jetstream T1 | Display |
| XL569 | Hawker Hunter T.7 | Display |
| WV382 | Hawker Hunter GA.11 | Display |
| XJ714 | Hawker Hunter FR.10 | Display |
| XP568 | Hunting Jet Provost T.4 | Display |
| WW442 | Percival Provost | Display |
| XZ369 | Sepecat Jaguar GR3A | Display |
| XV108 | Vickers VC10 (Front Section) | Display |
| G-APES | Vickers Vanguard 953C (cockpit) | Display |
| WL626 | Vickers Varsity T.1 | Display |
| G-CSZB | Vickers Viscount 804 (cockpit) | Display |
| ZD477 | Westland Sea King HC.4 | Display |
| XT604 | Westland Wessex HC.2 | Display |
| XG588 | Westland Whirlwind Srs 3 [VR-BEP] | Display |
| XZ721 | Westland Lynx HAS3 | Display |
| | Schleicher Glider K-8 | Display |
| | Link Trainer (1948) | Display |